Information about the national quality register for hand surgery HAKIR is at present only available in English in the brief introductory text attached below. We have also translated some of the forms, which can be downloaded below. Our ambition is to translate all the protocols, as well as the information material directed to you as a patient, also to other languages in the future. If you have any questions in the mean time, please contact the national registry coordinator Nina Lindblad, phone no: 08-616 20 13.
The General Data Protection Regulation
The General Data Protection Regulation (GDPR) is a regulation in EU law on data protection and privacy for all individuals within the European Union. It also addresses the export of personal data outside the EU. The GDPR aims primarily to give control to citizens and residents over their personal data and to simplify the regulatory environment for international business by unifying the regulation within the EU. It becomes enforceable on 25 may 2018. For more information please visit;
https://www.datainspektionen.se/in-english/

Manuals
National Manual – For measuring motion and strength in the elbow, forearm and hand.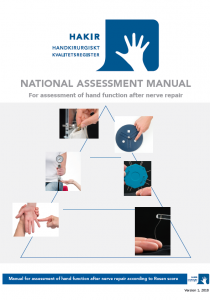 Information brochure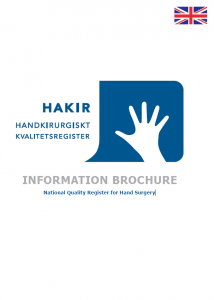 Information brochure in english
Forms